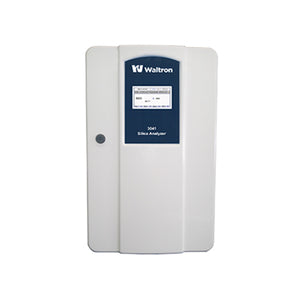 Waltron 3054 Filming Amines Analyzer
3054-01-A01
The 3054 is the first online analytical instrument capable of providing accurate and reliable measurement of modern Filming Amine treatments now being used in boiler water, condensate, and/or cooling water systems.  Its ability to accurately display trends in product concentration can save thousands of dollars in unnecessary treatments -- or thousands of dollars in corrosion damage from underprotected systems.

Range: 0-500ppb
Streams: Single and Dual (up to four channels with separate Waltron sequencer)

The unit is shipped with 1 month of reagents/ standards.
Features: 
Accurate and wide-range analysis
---
 Fast loop reservoir
---
 Adjustable cycle and calibration frequency
---
 Automatic calibration and validation (QA/QC)
---
 Compact design
---
 Color touchscreen display
---
 Grab sample capability
---
 Internal datalogger
---
 Low reagent level alarm
---
 No compressed air required
---
 Automatic start/stop based on sample flow detection
---
 Minimal analyzer maintenance
---
 Panel mounting bracket available for Hach 5000 replacement
---
Frequently Bought With