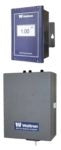 Waltron 9031CX Sodium Analyzer
9031CX-00-A01
$7,80000

$7,800.00

Save $1,200
---
---
Waltron's 9031CX Sodium Analyzer combines simplified design with uncompromising performance. This economic option can save your budget as well as mounting space.  Common application points in a boiler system for online Sodium measurement include: make-up water, condensate, boiler feedwater and saturated steam/main steam.   Also available in panel mount version.

Range: 0.1 ppb - 10 ppm
Streams: Single (up to four channels with separate Waltron sequencer)

The unit is shipped with 1 month of reagents/ standards.
Features: 
Large user friendly color touch screen interface
---
Compact size
---
Wide analysis range: 0.1ppb – 10ppm
---
Quick connect electrodes and probe positioning clamps
---
Two 4-20 mA isolated current outputs
---
Low reagent and standard consumption
---
Internal data logger set to store readings every 10 minutes for 30 days
---
Minimal maintenance required
---
Automatically stores last 10 calibrations and alarms
---
Reagents: Ammonium Hydroxide (standard) or Di-isopropylamine (optional)
---
Frequently Bought With